.
latest.news
.










Automation Warehouse
Ph:0734880177
email: click

About Automation Warehouse
Automation Warehouse has been operating in Australia for over 21 years and is an 100% Australian owned company distributing various Automation products from Insevis, Helmholz, Progea,VIPA, Siemens and Allen-Bradley.

Insevis and Helmholz products are designed and manufacture 100% in Germany, creating very high quality Automation solutions with unquestionable support and service.

VIPA (Yaskawa VIPA Controls) is now fully owned by Yaskawa as of April 2016, VIPA products are now mostly all manufactured in Thailand, and other parts of Asia.

The Managing Director and owner of Automation Warehouse is Mr Paul Rogers. Paul is previously from Siemens Automation and Drives, Industrial Automation Division and brings to Automation Warehouse broad experience in Automation system design and customer satisfaction based over 31 years in Automation.
Our employees have over the years worked with Allen-Bradley, Omron, Hitachi, Schneider, and of course with Siemens TI505, S5, S7 complete systems.
We excel in providing personal, prompt customer service, large stock holdings, fast deliveries and low pricing, which has proven well accepted by our customers. Enabling us to supply millions of dollars of PLC, HMI and SCADA equipment into the Australian market each year.

Contact:

Ph: 07 3488 0177

SIMATIC, S7-200, S7-300, S7-400, WinCC, STEP, and S5 are registered trademarks of Siemens


Product Focus

TB20-C ProfiNet Slave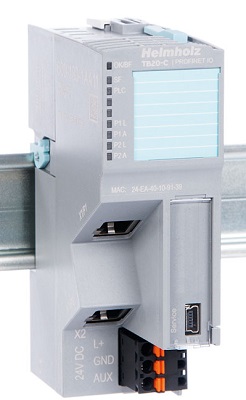 TB20-C ProfiNet Slave head for TB20 I/O system

Includes internal Power module
Up to 64 modules per rack (Siemens ET200S only allows 12)
Hotswap module capable
Free Software Toolbox for simulation and diagnosis in addition to information available from Siemens STEP7 / TIA Portal, or WinPLC7 software.
Detailed status indication of all modules in use in the system
Fault Tracking and fault repair
Galvanic isolation between fieldbus and backplane bus


TB20-C, Bus Coupler PROFINET IO

The PROFINET bus coupler is designed to connect a PROFINET bus to TB20 peripheral modules.
A functioning TB20 configuration will always require a bus coupler and at least one peripheral module, but can accommodate up to 63 modules of any kind connected in series with the bus coupler. The bus coupler supports hot-plug for replacing modules during operation.
In addition, it will recognize all connected peripheral modules and assign each module the corresponding inputs/outputs from the process image table.

PROFINET bus coupler with Power over Ethernet (PoE):
A PROFINET bus coupler version featuring Power over Ethernet (PoE) will soon be available as well.
This bus coupler will make it possible to run a distributed I/O station with nothing more than an Ethernet cable.

Note:
The 24 V power supply connector, the final bus cover, and the base module are included as standard.
TB20 ToolBox makes it easy to methodically design TB20 systems. Integrated terminal mapping, system width calculations, and Current-carrying capacity monitoring all make it possible to quickly design systems without making any mistakes.

Characteristics
• I/O device as per PROFINET IO (61158-6-10)
• Integrated two-port switch
• Full-duplex transmission rate of 100 Mbps
• 340 bytes of I/O data
• Up to 63 peripheral modules
• Modules can be replaced during operation (hot-plug)
• Conformance Class C
• Media Redundancy Protocol (MRP)
• Automatic addressing / hot-swapping (LLDP, DCP)
• Topology discovery
• I&M data
• Diagnostic alarms, process alarms, pull/plug alarms
• Integration using GSDML file
• 24 VDC power supply
• Integrated power supply unit for powering peripheral modules (2.5 A)
• Supplies the system's I/O voltage (24 VDC)
• 7 LEDs, two of them bi-color
• USB device port for online diagnostics, configuring parameters, setup, and firmware updates with "TB20 ToolBox"
• TB20 ToolBox simulation for setting up the I/O system without a higher-level controller in order to test the system`s operation (I/O check)
• Concealed "factory reset" switch for restoring the module to its factory settings