.
catalogues
.










Automation Warehouse
Ph:0734880177
email: click

Insevis Main Catalogue - PDF Download
Helmholz S7-300 and Networking Catalogue - PDF Download
Helmholz TB20 Fieldbus I/O Catalogue - PDF Download
WiFi Industrial Catalogue - PDF Download
Ethernet & Fibre Optic Industrial Catalogue - PDF Download
Movicon SCADA Catalogues - Link to Download

S7 from Siemens Programmable CPU's with HMI Touch panels

S7-300 parts and Networking security

TB20 Remote Fieldbus I/O, Profibus, ProfiNet, ModbusTCP, CanBus

We also stock S5-115U and S5-135U Digital I/O, Analog I/O and TCP/IP modules
---
S7200, S7-300, S7-400, S5, S5-115U, S5-135U, SIMATIC, STEP, HMI, WinCC, ET200 are registered trademarks of Siemens


Product Focus

Teleservice TM-E PSTN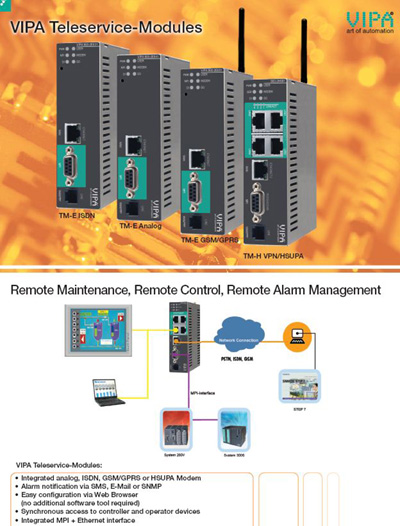 VIPA Teleservice Module

Integrated PSTN Analogue Modem
• Remote Programming (over telephone line) with STEP7 without need for teleservice software
• Alarm notification via SMS, E-Mail or SNMP
• Easy configuration via Web Browser (no additional software tool required)
• Synchronous access to controller and operator devices
• Integrated Ethernet interface
TM-E PSTN
DC 12V…24V, modem inbuilt,
MPI,
Ethernet RJ45,
router functions,
DI 1xDC 24V, DO 1xDC 24V, 0,2A,
Email, SMS, SNMP, FTP
IP Forwarding, Transparent Forwarding
NAT firewall
Dial Connection
Integrated Proxy
Routing table
MPI, ISO on TCP, PROFIBUS, Modbus TCP
Integrated Web Server
FTP server / client
Call Back
Dynamic DNS support
Dimensions, 39mm x 129mm x 108mm


Note the PSTN port on this product has not been tested for A-Tick certification for connection to the Australian phone network.
For Australian customers ACMA requires us to print this warning:

Do not connect this item to any telecommunications network of facility unless:
1. You have the written consent of the network of facility manager or
2. the connection is in accordance with a connection permit issued for this item or
3. a connection rule for this item has been made by the Australian Communications and Media Authority

The connection of this item to any telecommunications network or facility may cause a hazard or damage to the network or facility, or to users of the network or facility, and may result in you being consequently liable to pay substantial compensation.